BM TOURING 11'6" DISCOVERY . DUAL AIR INFLATABLE PADDLE BOARD PACKAGE
The multi-person BM SUP is the latest paddle board in our quiver and is designed for FUN! It'll fit you, your family and closest friends, dogs, and gear - and probably more!
Complete ISUP Package:
Complimentary kits come with 360-degree twist ankle leash, snap-in tool-less removable fin, dual-action hand pump, PVC patch, and waterproof phone case. The most comfortable inflatable paddleboard backpack is available with loads of extra padding & super wide straps.
Beginner
Intermediate
Expert
FeaturesSpecification
Dimension:11'6" × 31" × 6"
Weight: 23.15 LB
Max. Capacity: 308 LB
Drop-Stitch Type:KNITTED
Experience:Beginner
EXTRA-LIGHT FIBERGLASS PADDLE
WATERPROOF TPU PHONE CASE

WIDE-STRAP & SPACIOUS BACKPACK
a surfboard for everyone
Different frames for all riders and riding styles. All the same smart-tech inside.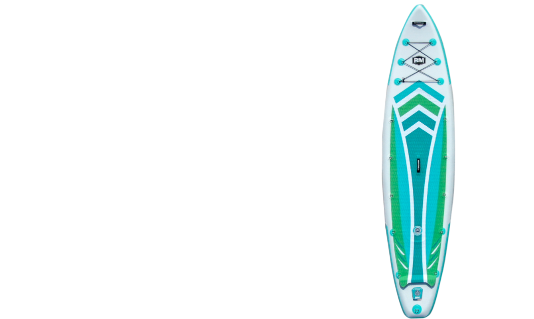 Features Specification
Dimension:11'6" × 31" × 6"
Weight: 23.15 LB
Max. Capacity: 308 LB
Drop-Stitch Type:KNITTED
Experience:Beginner
Your own accessories
Extralight 3-Piece Fiberglass Paddle
Our accessory package includes an ultralight fiberglass paddle, designed for optimal paddleboarding performance. Its adjustable length and durable polyurethane blade make it reliable and easy to use. Its lightweight construction and ability to float make it convenient for storage and transportation.
Double Action Hand Pump
Our advanced dual-action hand pump makes inflating and deflating your SUP a breeze. The efficient design allows air to be pumped during both up and down strokes, cutting inflation time in half. Its powerful mechanism can also act as a vacuum for easy deflation. This versatile pump increases efficiency and reduces effort, enabling more time on the water.
Secure Ankle Leash
Our accessory package includes a secure ankle leash to keep your SUP connected to you at all times. The adjustable and comfortable ankle strap provides a secure connection, preventing it from drifting away in the event of a fall or challenging water conditions. Paddle with peace of mind, knowing your SUP is within reach for a safe and enjoyable experience.
Removable Center Fin
The SUP comes with a removable center balance fin for added versatility and convenience. This fin can be easily detached, making the board more portable and space efficient for storage or transportation. When attached, the balance fin increases the stability of the SUP, allowing you to maintain better control and maneuverability. It also improves propulsion, helping you achieve efficient paddling strokes.
DIY Repair Kit
Our accessory pack includes a DIY repair kit, empowering you to make minor repairs to your SUP. It provides patches, glue, and a valve wrench for quick and effective repairs. Maintain and personalize your board with ease, promoting longevity and a personalized experience.
Waterproof TPU Phone Case
Our accessory package has a waterproof TPU phone case, allowing you to bring your phone on your paddleboarding excursions. It provides reliable protection against water while allowing full access to the touch screen and phone features. The TPU material is flexible and durable, ensuring long-lasting protection. Capture stunning photos or stay connected without worries with this waterproof phone case.
Wide-Strap & Spacious Backpack
Our SUP accessory package features a comfortable, wide-strap backpack with ample space for all your gear. Easily pack and transport your SUP and essentials to your paddleboarding adventures with even weight distribution.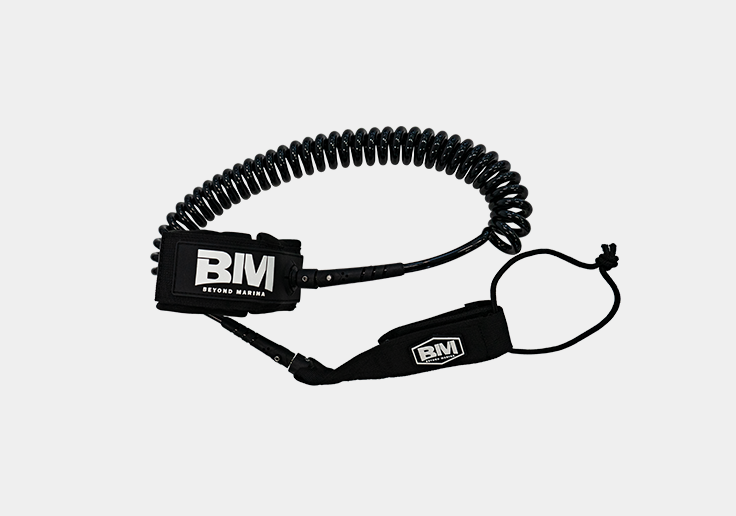 TOURING Paddle Boards
Made using exclusive technology, our touring paddle boards offer fantastic versatility and innovation. Take to the water with our award-winning, or find a multi-person or surfing SUP.
Lightweight and Portable
Family Friendly
A fun beach companion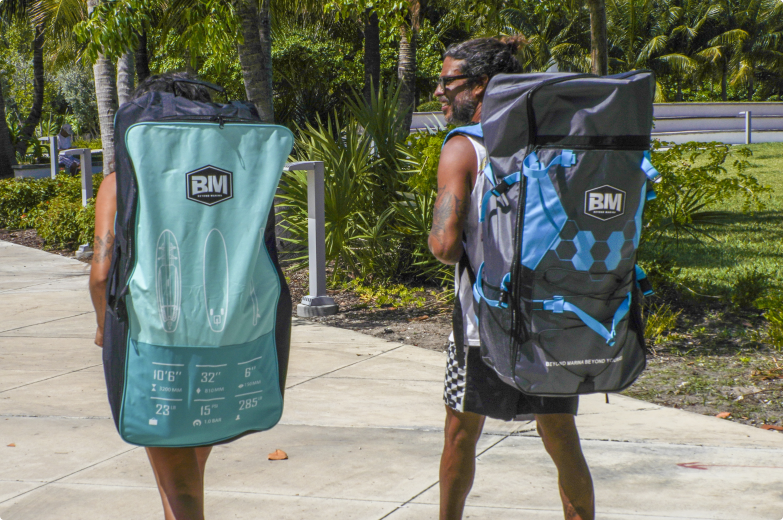 Lightweight and Portable
Beyond marina's products mean it weighs about 20 pounds (more than 20% lighter than most premium inflatable paddleboards).
Family Friendly
The Beyond marina has all the essentials for a fun day on the water for you and your family in all the style of the BM.
A Fun Beach Companion
The Beyond marina is the icing on the cake for your beach gear, allowing you to escape the crowded beaches and enjoy offshore paddling.
Compare Your Paddleboard.
Type
Skill
Size
Weight (Compared to general SUPs)
Feature
Capacity
Pump
Paddle
ISUP stands for Inflatable Stand-Up Paddleboard. An inflatable SUP board can be inflated and deflated for easy storage and transportation. It is typically made of durable PVC material and features a drop stitch air chamber that provides rigidity when inflated.
SUP offers numerous benefits, including a full-body workout, improved balance and core strength, stress relief, and the opportunity to explore waterways and nature.
Here are some general directions for choosing a SUP board based on our recommendations:
1. All-Round: These boards are maneuverable, stable, and versatile, making them suitable for beginners, e.g., BEYOND MARINA EPIC Series and HEYBOARD Series.
2. Touring: Designed for touring, exploring, and roaming, these boards are suitable for intermediate paddlers, e.g., BEYOND MARINA DISCOVERY Series.
3. Racing: If you're looking for speed, competition, and racing, these boards are designed for advanced paddlers, e.g., the BEYOND MARINA RACE Series.Please note that the suitability of a board also depends on individual preference and skill level. For more information, please consult the size guide on our website or contact customer support for a personalized recommendation.
Yes, BEYOND MARINA's EPIC Series and HEYBOARD Series are suitable for beginners. They offer stability, easy maneuverability, and a forgiving surface, making them ideal for learning and building confidence on the water.
We have incorporated the AIRIER, SPEEDIER, STEADIER features into our SUP boards, making them the perfect choice for your outdoor activities. With our 2ND GEN ULTRALIGHT MATERIAL featuring FeatherLight™ Technology, we have taken our ISUP to the next level, creating a lightweight yet durable SUP board that is easy to carry and maneuver on the water.