BM ADVENTUREX 12'4" INFLATABLE KAYAK
The multi-person BM KAYAK is the latest paddle board in our quiver and is designed for FUN! It'll fit you, your family and closest friends, dogs, and gear - and probably more!
Complete KAYAK Package:
Our Kayak offers exceptional value for its price, including everything you need to get started. The package includes a kayak, seat, quick-release fin, high-pressure pump, storage bag, and repair kit, as well as two adjustable EVA padded seats, two aluminum kayak paddles with ergonomic grip handles, two adjustable footrests, and two fins.
FeaturesSpecification
Dimension:12'4" × 31" × 15.75"
Weight: 25.35 LB
Max. Capacity: 374 LB
Drop-Stitch Type: KNITTED (BOTTOM ONLY)
FOUR-SECTION ADJUSTABLE PADDLE WITH ALUMINUM SHAFT AND POLYURETHANE COMPOSITE BLADES

SPACIOUS AND DURABLE CARRY BAG
a surfboard for everyone
Different frames for all riders and riding styles. All the same smart-tech inside.
Features Specification
Dimension:12'4" × 31" × 15.75"
Weight: 25.35 LB
Max. Capacity: 374 LB
Drop-Stitch Type: KNITTED (BOTTOM ONLY)
Your own accessories
Extralight 3-Piece Fiberglass Paddle
Our accessory package includes an ultralight fiberglass paddle, designed for optimal paddleboarding performance. Its adjustable length and durable polyurethane blade make it reliable and easy to use. Its lightweight construction and ability to float make it convenient for storage and transportation.

Double Action Hand Pump
Our advanced dual-action hand pump makes inflating and deflating your SUP a breeze. The efficient design allows air to be pumped during both up and down strokes, cutting inflation time in half. Its powerful mechanism can also act as a vacuum for easy deflation. This versatile pump increases efficiency and reduces effort, enabling more time on the water.

Removable Center Fin
The SUP comes with a removable center balance fin for added versatility and convenience. This fin can be easily detached, making the board more portable and space efficient for storage or transportation. When attached, the balance fin increases the stability of the SUP, allowing you to maintain better control and maneuverability. It also improves propulsion, helping you achieve efficient paddling strokes.
DIY Repair Kit
Our accessory pack includes a DIY repair kit, empowering you to make minor repairs to your SUP. It provides patches, glue, and a valve wrench for quick and effective repairs. Maintain and personalize your board with ease, promoting longevity and a personalized experience.
Wide-Strap & Spacious Backpack
Our SUP accessory package features a comfortable, wide-strap backpack with ample space for all your gear. Easily pack and transport your SUP and essentials to your paddleboarding adventures with even weight distribution.
What's Included?
We Combine The Best Of Financial Planning, Investment Management, And Tax Strategy.
Lightweight and Portable
Family Friendly
A fun beach companion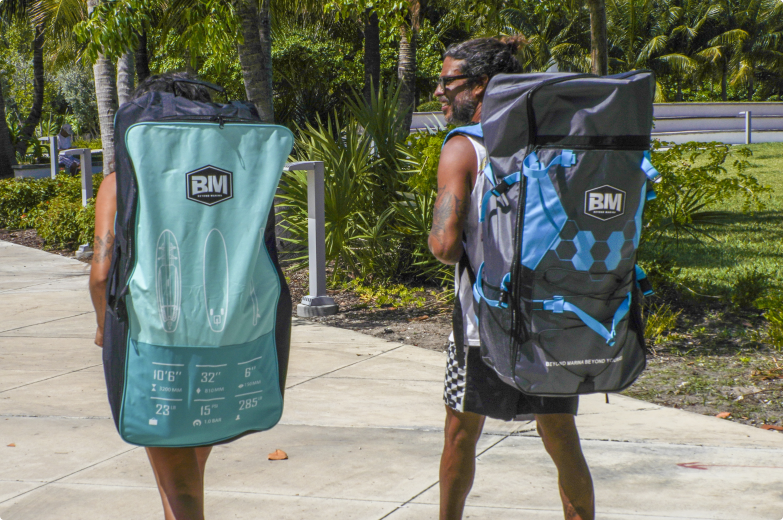 Lightweight and Portable
Beyond marina's products mean it weighs about 20 pounds (more than 20% lighter than most premium inflatable paddleboards).
Family Friendly
The Beyond marina has all the essentials for a fun day on the water for you and your family in all the style of the BM.
A Fun Beach Companion
The Beyond marina is the icing on the cake for your beach gear, allowing you to escape the crowded beaches and enjoy offshore paddling.
Compare Your Paddleboard.
Capacity
Skill
Weight
Durability & Versatility
Material & Construction
Waters
Maneuverability
Comfort
Hand Pump
OTHER KAYAK
——
Varied
Diverse, can not be a combination of light weight and durability
Basic 
Basic 
Only on Calm Waters
Basic 
Normal
Single-Action
BM PVC TARP KAYAK
2-Person
Beginner
Ultralight
Upgraded
Enhanced (PVC Tarpaulin with Drop Stitch Bottom)
Choppy Waters
Superior
Improved
Dual-Action
BM DROP STITCH KAYAK
2-Person / 3-Person
Beginner
Light
Superior
Premium (Triple Chamber Drop Stitch - Sides & Bottom)
Rough Waters
Upgraded
Ultra
Dual-Action
Inflatable kayaks can offer comparable performance to hard-shell kayaks in terms of speed, maneuverability, and tracking. However, they may have slightly different handling characteristics due to their flexible structure. In general, inflatable kayaks are well-suited for recreational paddling, touring, and exploring calm waters.
Yes, inflatable kayaks are often recommended for beginners due to their stability, ease of use, and portability. They are a great option for those who want to explore kayaking without the need for a rigid kayak or extensive storage space. It's always a good idea for beginners to start in calm waters and gradually progress to more challenging conditions.
The main difference lies in their construction and resulting features. The PVC Tarpaulin Kayak (e.g., ADVENTUREX) features a drop stitch chamber solely in the bottom portion, making it lighter in weight and more cost-efficient. On the other hand, the Drop Stitch Kayak (e.g., EXPLORER and VINTAGE) utilizes drop stitch chambers for both the sides and the bottom, offering enhanced strength, durability, and higher weight capacity.
Yes, both the ADVENTUREX and EXPLORER/VINTAGE kayaks are designed for easy inflation and deflation. They come with with high-efficiency, double-action hand pumps for convenient and quick inflation and deflation.
Yes, all BEYOND MARINA kayaks are versatile and suitable for a variety of water conditions, including calm lakes, rivers and coastal waters. However, it's important to always consider the specific kayak's design and stability for the intended use.
If you notice a small pinhole or puncture causing an air leak in your kayak, you can try using the repair kit that came with your kayak. This kit is designed to repair small leaks or punctures. It's important to note that if the leak or puncture is in a seam, it cannot be repaired. The kayak will need to be replaced. Contact our customer support and they will assist you with the replacement process.