BM ALL-ROUND 10'6" EPIC . FEATHERLIGHT™ INFLATABLE PADDLE BOARD PACKAGE
Experience the ultimate paddleboarding adventure with the Beyond Marina EPIC FEATHERLIGHT™ (ALL-ROUND) inflatable stand-up paddleboard. Weighing just 16 lbs, this lightweight board is expertly crafted from 2nd Generation Ultralight Material, which incorporates triple-layer, military-grade Fusion Tech PVC composite for exceptional strength. It delivers unparalleled stability and maneuverability on the water. The roomy design features an extra-large traction pad and versatile components. Whether you're a beginner or an avid paddler, this beginner-friendly board is perfect for a variety of activities, making it the ideal companion for your paddleboarding journey.
FeaturesSpecification
Dimension:10'6" × 32" × 6"
Weight: 16.3 lb
Max. Capacity: 310 lb
Composition: Triple-layer, military-grade PVC composite with woven drop-stitch core
Experience:Beginner
Extralight 3-Piece Fiberglass Paddle

Waterproof TPU Phone Case

Wide-Strap & Spacious Backpack
NEXT-GENERATION ULTRALIGHT SUP
Enhanced with FeatherLight™ Technology for Unparalleled Lightweight & Durability
Features Specification
Dimension:10'6" × 32" × 6"
Weight: 16.3 lb
Max. Capacity: 310 lb
Composition: Triple-layer, military-grade PVC composite with woven drop-stitch core
Experience:Beginner
BOARD FEATURES
Military-Grade PVC
FeatherLight™ technology creates a ultralight, rigid and durable 2nd gen SUP.
High-Performance Valve
Premium valve ensures airtight seal and quick inflation/deflation.
Multi-Purpose D-Ring
Stainless steel D-rings for kayak seats or group board connections.
Safety Leash Point
Secure stainless steel D-ring for ankle leash attachment.
Non-Slip Eva Deck Pad
Diamond-textured pad offers stability and comfort.
Reliable Bungee Straps
Quality straps keep gear secure.
Removable Center Fin
Enhance portability and stability, improving control and propulsion.
Improved Grab Handle
Reinforced handle for easy and comfortable transport.
Fuller (Round) Nose
Improved nose riding, stability, and planing.
2nd Gen Ultralight SUP
Constructed from military-grade PVC composite with FeatherLight™ technology, this SUP is lightweight, rigid and durable.
Airtight & Easy Setup
Our SUP features a premium grade inflation valve for superior sealing and efficient inflation/deflation, saving you time and effort while ensuring optimal performance on the water.
Converts to a Kayak
This SUP offers versatility with stainless steel side D-rings that allow you to easily attach a kayak seat or connect multiple boards for group adventures. (kayak seat sold seperately)
Safety Always Comes First
Stainless steel D-ring acts as a reliable anchor to securely attach the ankle strap for maximum safety in all conditions.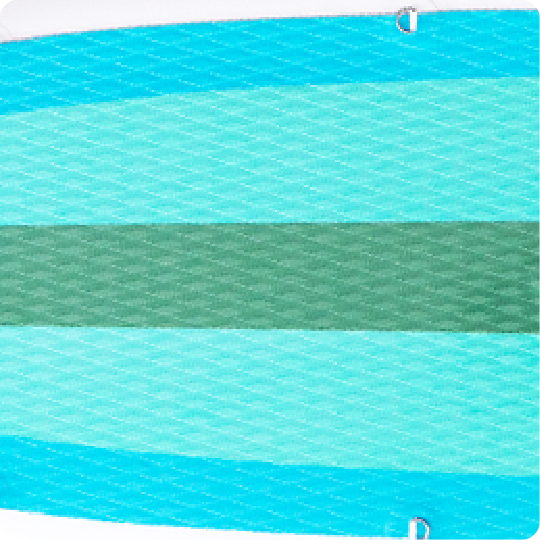 Advanced Traction & Comfort
Prioritizing your safety, our SUP features a diamond-textured EVA deck pad offering superior slip resistance, stability, and balance. Soft and comfortable, it ensures a pleasant paddling experience.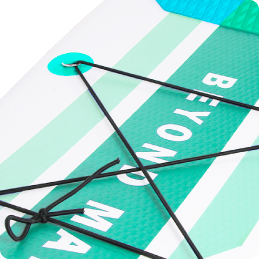 Easy Gear Storage
Our SUP features high-quality, 4-point bungee tie-down straps for secure and convenient gear storage during paddleboarding. Safely store and easily access your gear while actively paddling.
Removable Balance Fin
Reinforced grab handle make transporting the board with loaded gear along riverbeds, docks, or shore breaks very simple. Can also be used as tie-up points for docks, or for a leash.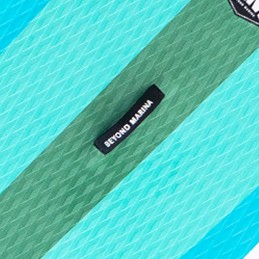 Comfortable & effortless Transport
This SUP features a reinforced grab handle that offers a strong and comfortable grip. With this improved handle, you can easily carry your fully inflated board for a hassle-free paddleboarding experience.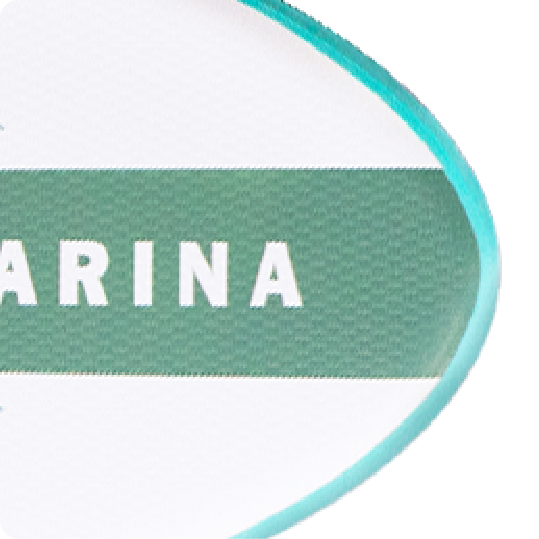 Enhanced Performance and Stability
The fuller (round) nose of our SUP deliver exceptional nose riding, improved planing, increased stability, and heightened drag. Experience longboard-style surfing and added stability in calm waters.
ULTRALIGHT, DURABLE, & MANEUVERABLE.
Experience Beyond Marina's EPIC FEATHERLIGHT™ (ALL-ROUND) inflatable paddle boards, which weigh an amazingly light 16 lb. With a maximum load capacity of 308 lb, these boards utilize the innovative 2nd Generation Ultralight Material. This advanced composite incorporates 3 Fusion Tech layers, including 2 PVC sheets and a 1000D polyester weave for exceptional stiffness. Enhanced by our proprietary FeatherLight™ technology, these boards offer remarkable lightweight performance, making them incredibly easy to maneuver on the water while maintaining durability and stability.
EXTRALIGHT FIBERGLASS PADDLE.
Lightweight and comfortable, our accessory package includes a fiberglass paddle for effortless paddling. With its three easy to assemble and disassemble pieces, it offers portability and easy storage. The adjustable feature allows you to customize the paddle length for optimal stroke efficiency. Its virtually unbreakable polyurethane composite blade ensures durability and reliability. In addition, the paddle stays afloat if dropped, eliminating the hassle of retrieving it from the water.
WIDE, STABLE, & VERSATILE.
With a large 10'6" × 32" × 6" traction pad, this board not only offers exceptional stability for solo paddling, but its spacious design allows you to bring along your friend, child, or even your beloved furry companion. Take your paddleboarding experience to new heights as this board effortlessly transforms into a platform for aqua yoga sessions or converts into a kayak for a variety of activities such as leisurely paddling, fishing, and group adventures where multiple SUP boards can be linked together.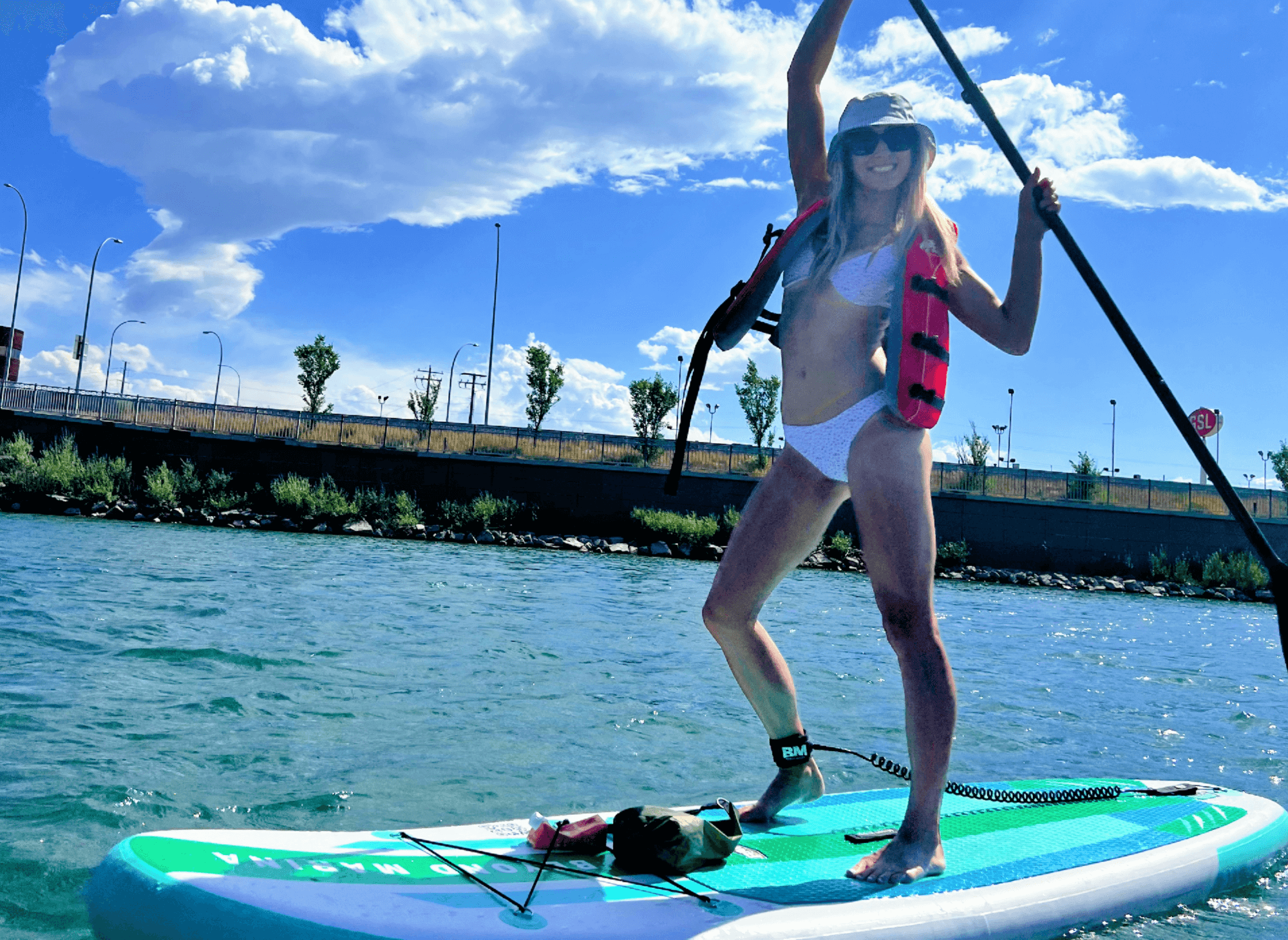 Your own accessories
Extralight 3-Piece Fiberglass Paddle
Our accessory package includes an ultralight fiberglass paddle, designed for optimal paddleboarding performance. Its adjustable length and durable polyurethane blade make it reliable and easy to use. Its lightweight construction and ability to float make it convenient for storage and transportation.

Double Action Hand Pump
Our advanced dual-action hand pump makes inflating and deflating your SUP a breeze. The efficient design allows air to be pumped during both up and down strokes, cutting inflation time in half. Its powerful mechanism can also act as a vacuum for easy deflation. This versatile pump increases efficiency and reduces effort, enabling more time on the water.

Secure Ankle Leash
Our accessory package includes a secure ankle leash to keep your SUP connected to you at all times. The adjustable and comfortable ankle strap provides a secure connection, preventing it from drifting away in the event of a fall or challenging water conditions. Paddle with peace of mind, knowing your SUP is within reach for a safe and enjoyable experience.
Removable Center Fin
The SUP comes with a removable center balance fin for added versatility and convenience. This fin can be easily detached, making the board more portable and space efficient for storage or transportation. When attached, the balance fin increases the stability of the SUP, allowing you to maintain better control and maneuverability. It also improves propulsion, helping you achieve efficient paddling strokes.
DIY Repair Kit
Our accessory pack includes a DIY repair kit, empowering you to make minor repairs to your SUP. It provides patches, glue, and a valve wrench for quick and effective repairs. Maintain and personalize your board with ease, promoting longevity and a personalized experience.
Waterproof TPU Phone Case
Our accessory package has a waterproof TPU phone case, allowing you to bring your phone on your paddleboarding excursions. It provides reliable protection against water while allowing full access to the touch screen and phone features. The TPU material is flexible and durable, ensuring long-lasting protection. Capture stunning photos or stay connected without worries with this waterproof phone case.
Wide-Strap & Spacious Backpack
Our SUP accessory package features a comfortable, wide-strap backpack with ample space for all your gear. Easily pack and transport your SUP and essentials to your paddleboarding adventures with even weight distribution.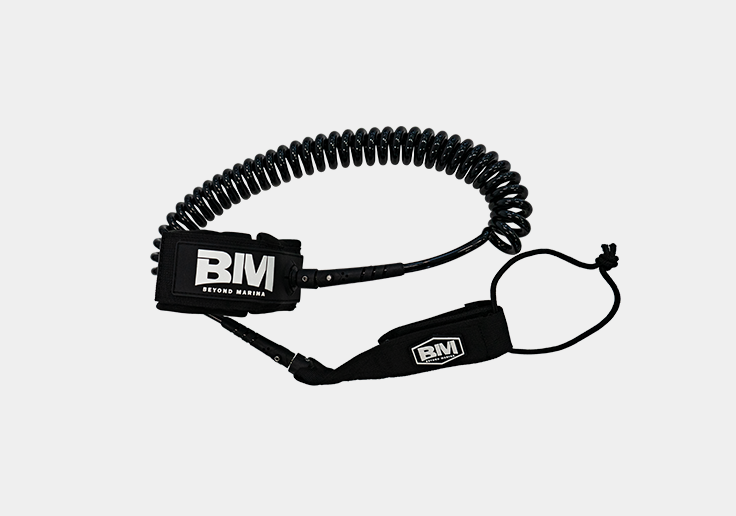 ALL ROUND PADDLE BOARDS
Discover the perfect balance of maneuverability, stability, and versatility with our All-Round SUPs. These paddleboards offer exceptional performance for various water conditions and activities, making them perfect for paddlers of all levels.
Lightweight and Portable
Perfect for Family Fun
Enjoy Versatile Activities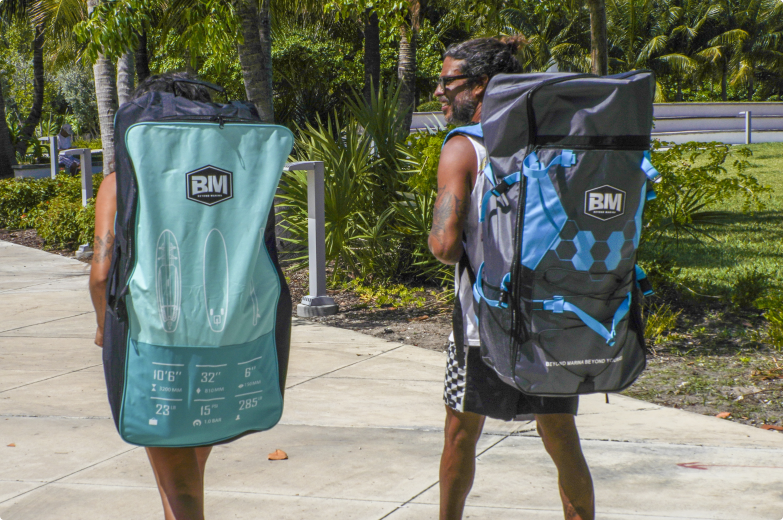 Lightweight and Portable
Beyond Marina's All-Round SUPs are constructed with lightweight materials. This makes them incredibly easy to carry and transport, providing comfort for all your paddleboarding adventures. Compared to other standard inflatable paddleboards, our boards are approximately 20% lighter, ensuring effortless maneuverability both on and off the water.
Perfect for Family Fun
Beyond Marina understands the importance of creating lasting memories with your loved ones. Our All-Round SUPs are carefully crafted to provide all the essentials for a fantastic day on the water, ensuring a delightful experience for you and your family. Whether it's exploring tranquil lakes or gliding through gentle waves at the beach, our boards offer the perfect balance of stability and fun, allowing everyone to join in on the fun.
Enjoy Versatile Activities
Designed for versatility, Beyond Marina's All-Round SUPs are your go-to choice for paddling tranquil lakes, surfing gentle waves, practicing yoga, and even fishing. With exceptional stability and thoughtful craftsmanship, our All-Round SUPs effortlessly adapt to your diverse aquatic pursuits. From exhilarating rides to peaceful fishing sessions, experience the freedom to explore different activities on the water with confidence and enjoyment.
Compare Your Paddleboard.
Type
Skill
Size
Weight (Compared to general SUPs)
Feature
Capacity
Pump
Paddle
ISUP stands for Inflatable Stand-Up Paddleboard. An inflatable SUP board can be inflated and deflated for easy storage and transportation. It is typically made of durable PVC material and features a drop stitch air chamber that provides rigidity when inflated.
SUP offers numerous benefits, including a full-body workout, improved balance and core strength, stress relief, and the opportunity to explore waterways and nature.
Here are some general directions for choosing a SUP board based on our recommendations:
1. All-Round: These boards are maneuverable, stable, and versatile, making them suitable for beginners, e.g., BEYOND MARINA EPIC Series and HEYBOARD Series.
2. Touring: Designed for touring, exploring, and roaming, these boards are suitable for intermediate paddlers, e.g., BEYOND MARINA DISCOVERY Series.
3. Racing: If you're looking for speed, competition, and racing, these boards are designed for advanced paddlers, e.g., the BEYOND MARINA RACE Series.Please note that the suitability of a board also depends on individual preference and skill level. For more information, please consult the size guide on our website or contact customer support for a personalized recommendation.
Yes, BEYOND MARINA's EPIC Series and HEYBOARD Series are suitable for beginners. They offer stability, easy maneuverability, and a forgiving surface, making them ideal for learning and building confidence on the water.
We have incorporated the AIRIER, SPEEDIER, STEADIER features into our SUP boards, making them the perfect choice for your outdoor activities. With our 2ND GEN ULTRALIGHT MATERIAL featuring FeatherLight™ Technology, we have taken our ISUP to the next level, creating a lightweight yet durable SUP board that is easy to carry and maneuver on the water.